Profile
Year of Establishment                                    :           2007 (Upgraded to Higher Secondary School)
Courses offered (college)                               :           Science, Commerce, Arts (Class XI and XII)
School Area                                                    :           11.74 Acres
Overall Statistics 2017:
 

         Students

Male

Female

Total

 

165

 

200

 

365

 

Teaching Staff

 

19

 

11

 

30

 

Support Staff

 

9

 

6

 

15
Royal Visit:
His Majesty the King visited the school on 2nd April 2012.
His Majesty graciously talked on the students discipline in general. His Majesty expressed the concern regarding our youth. His Majesty emphasized on the need to teach our youths the values and discipline. His Majesty also graciously informed the teachers to teach students self respect, confidence, teach students sense of competition, and getting ready to face challenges, globally.
His Majesty's visit made a great difference. Immediately, the school revisited its policy and especially the school discipline policy was amended-positive disciplining policy. Student support services were further strengthened. To inculcate values Driglam Namza sessions in the school was further strengthened.
His Majesty graciously granted Solera of Nu. 39,000/- for school picnic to be celebrated in one of the working days.
Kidu Students:
Male :             Nil

Female:           1
Sl No.

Name

Class

Village

Dzongkhag

Year they were Gyalpoi Tojay

1

Tshering Choden

XII Arts

Jeshigang, Dop Shari

 

Paro

 

2012
Infrastructure and Facilities
Sl.No

Type of Building

No.of rooms

Used for

Const.year

 

1

 

(MP Hall) RCC Concrete

 

5 rooms

 

Literary/Cultural Programmes

 

2006-2007

 

2

 

 

Adm. Block (LGSF Type)

 

6 rooms

 

Principal Office/Vice Principals Office/Staff room/ General office

 

2006-2007

 

3

 

Library (LGSF Type)

 

2 rooms

 

Library/reading room

 

2006-2007

 

4

 

 

Classrooms (LGSF Type)

 

18 rooms

16 rooms used as classrooms/ 1 resource room/1 store

2006-2007

5

Laboratories (LGSF Type)

12 rooms

4 labs- with 3 rooms (Physics/Chemistry/Biology and Computer labs0

 

2006-2007

6.

Principal's Quarter

7 rooms

Residence-  1 sitting room/3 bedrooms/2 toilets /1 kitchen

2006-2007

 

7

Traditional Mud house

4 rooms

2 Caretakers residence

2000-old principal quarter

8

Toilets (Boys/Girls) RCC

6units for boys and 6 units for girls

Toilets for boys and girls

2006-2007

 
Brief Background on the Institute:
School History
Shari Higher Secondary School under Paro Dzongkhag is an offshoot of the erstwhile Shari Community Primary School, established in the year 2000. The school was upgraded into a Higher Secondary level in 2007 with the infrastructures constructed under the World Bank financing at a contract amount of Nu.29,429,310.00/- allotted to M/s T & K Construction to be completed within 15 months. The school is 4 KMs away from Paro town and has a conducive learning environment. 
Located on a gentle slope overlooking the fertile valleys of Shari Geog and Paro Town, the school has one of the most impressive locales with tall whistling pine trees and decorative flowers and plants.  The school opened as a Higher Secondary School in February 2007. The school had her first Foundation Day on June 2nd, 2008.           
The school envisions living by the spiritual bonds of both the teachers and students; impart the many facets of modern and monastic learning with major thrust given to Training of Minds; Quality Output; Creation of Scholastic Culture and Pursue for Excellence to attain the mission of providing quality Wholesome Education to the learners.
Today the school has good administrative and academic buildings with equipped library, computer  facilities and laboratories, adequate classrooms, summer house, adequate games and sports arena, an auditorium, internal road network and campus street light.
We would like to be remembered as a home for the in-house dwellers, a temple of conscious learning for the learners and an institution of quality; a leader amongst schools; and our collective pride
School Vision:
A learning organization of quality performances and excellence in academic and non-academic programs towards the wholesome development of learners.
School Mission:
To create enabling conditions for our students to realize their potentials to be honest, self-disciplined, responsible, dedicated, committed and   co-operative citizen who are academically sound, morally upright, physically fit, culturally sensitive, ecologically conscious and socially productive as just and loyal citizen.
School Core Values:
Training of the mind

Professionalism

Quality Output

Scholastic Culture

Excellence
What we value:
Team  sprit

Discipline

Honesty and integrity

Respect for self and others

Hard work

Dignity of labour

Patriotism and loyalty

Love for culture, custom, etiquette and spiritual values

Sense of belonging

Ownership and responsibility

Punctuality and conduct
School Motto:  Ever Shining
Our Strategy: To fulfill the vision through:
Proper guidance and collaborative ventures

Proper planning and introspection

Consistent hard work with dedication

Efficient and effective delivery of duties

Perseverance to improve further
We envision our school to create the following enabling conditions for flowering of GNH Values….
Individual acceptance

Healthy Physical and Psychosocial ambience

Sense of belonging

Effective Student Support Services

Dynamic Policy

Develop strong interpersonal rapport

High spiritual and moral values

Equity and Justice

Effective plans

Dynamic leadership (Democratic)

Guided freedom

Inclusive education

Strong ecological ethics

Free from abuses

Gender sensitive

Fair assessment

Community participation

Being mindful of duties
We aspire our students to graduate with the following GNH values:
Punctual and well behaved

Honest and responsible

Hard working and respectful

Affectionate and trustworthy

Patriotic and loyal

Tolerant and co-operative

Understanding and confident

Initiative and innovative

Committed and graceful

Love for culture, custom, etiquette and spiritual values

Ownership and sense of belonging

Be a good citizen and a good human being.
School Academic Performance 2010-2017
Class

Year

Students sat    for exam

    Number of Students Passed

   Number of  Students Failed

Passed Percentage (%)

IX

2017

85

78

7

91.8%

2016

91

74

17

81.32%

2015

130

111

19

85.38%

2014

108

106

2

98.1%

2013

109

107

2

98.2%

2012

133

110

23

83%

2011

123

114

9

92.68%

2010

110

100

10

91%

X

2017

71

71

Nil

100%

2016

110

105

5

95.45%

2015

99

95

4

95.95%  

2014

124

109

15

87.90%

2013

109

107

2

98.2%

2012

124

121

3

97.58%

2011

126

126

0

100%

2010

147

146

1

99.32%

      XI

2017

105

98

7

94%

2016

145

139

6

88.49%

2015

139

123

16

88.48%

2014

109

107

2

98.2%

2013

90

81

9

90%

2012

110

93

17

85%

2011

110

105

5

95.5%

2010

61

60

1

98.4%

XII

2017

143

135

8

94.5%

2016

127

102

25

80.31

2015

133

130

3

97.7%

2014

85

79

6

92.9%

2013

90

90

0

100%

2012

117

111

6

94.87%

2011

75

72

3

96%

2010

68

68

0

100%
Statistics of Students 2018
Class

Gender

 

 

 

 

Boys

Girls

Total

 

 

 

IX A

13

10

23

 

 

 

IXB

7

11

18

 

 

 

IXC

12

11

23

 

 

 

IXD

11

13

24

 

 

 

Total

43

45

88

 

 

 

XA

8

10

18

 

 

 

XB

15

16

31

 

 

 

XC

20

10

30

 

 

 

Total

43

36

79

 

 

 

XI Sci.A

12

11

23

 

 

 

XI Sci.B

11

13

24

 

 

 

XI Com.

9

10

19

 

 

 

XI Arts

9

28

37

 

 

 

Total

41

62

103

 

 

 

XII Sci.A

8

10

18

 

 

 

XII Sci.B

10

10

20

 

 

 

XII Com.

8

13

21

 

 

 

XII Arts

12

25

37

 

 

 

Total

38

58

96

 

 

 

G.Total

165

201

366

 

 

 
Teaching Staff Details:
| | | | | |
| --- | --- | --- | --- | --- |
| Sl.No | Name | Qualification | Subject/Courses taught | Years in service |
| 1 | Bak Bir Rai | M.Ed | Geography | 24 years |
| 2 | Karma | PGDE/M.Ed | Geography | 17years |
| 3 | Norbu Tshering | B.Ed/M.Ed | Dzongkha | 10 years |
| 4 | Jamtsho | B.Ed | Dzongkha | 22years |
| 5 | Nidup | B.Ed | Dzongkha | 31 years |
| 6 | Khandu | ZTC | Dzongkha | 22years |
| 7 | Jigme Wangmo | B.Ed(Sec) | Maths | 31years |
| 8 | Tashi Pema | PGCE/BA | English | 19years |
| 9 | Dawa Chencho | PGCE | Dzongkha | 9 years |
| 10 | Kelzang Lhadon | M.Ed | English | 16 years |
| 11 | Sumitra Subba | PGCE/M.Sc | Physics | 16years |
| 12 | Tshering Tshomo | B.Ed(Sec) | History | 9years |
| 13 | Rinzin Wangmo | PGCE/M.Com | Economics | 18years |
| 14 | Tashi Dema | B.Ed(Sec) | Geography | 12years |
| 15 | Sangay Choden | B.Ed | Biology | 7years |
| 16 | Tandin | M.Ed | History | 22 years |
| 17 | N. Tandin Dorji | M.Ed | Economics | 26years |
| 18 | Padam Singh Mongar | PGDE/B.Sc | Maths | 8years |
| 19 | Namgay Dorji | B.Ed(Sec) | Physics/IT | 13years |
| 20 | Sangay Tenzin | M.A(M&C) | English | 11years |
| 21 | Pema Wangchuk | PGDE | Chemistry | 8years |
| 22 | Tshering Lham | M.Sc | Chemistry | 9 years |
| 23 | Tek Nath  Kafley | PGDE/M.Sc | Maths | 11years |
| 24 | Kencho Zangmo | PGDE/B.A | Geography | 6years |
| 25 | Pema Jurmey | MDP | EVS/Maths | 12years |
| 26 | Sonam Tshering | M.Com | Commerce | 10 years |
| 27 | Kencho Wangmo | M.Com | Accounts | 10 Years |
| 28 | Yeshey Tenzin | M.Sc. | Maths | 6 years |
| 29 | Tshering Tobgay | M.Sc | Biology | 10 Years |
| 30 | Tshering Dendup | M.A | English | 15 years |
Profile of Head/principal & Deputy/Vice Principal
Name:                         Bak Bir Rai
Position Title: Principal
Grade:                        P1 A (IV)
Home Address          (Village/Gewog/Dzongkhag)
                                   (Dangling/Tashichoeling/Samtse)
E-mail:                       raibakbir@yahoo.com
Telephone:                 08 -271588/17681283
Educational Background
| | | |
| --- | --- | --- |
| Qualification | Year | Institution |
| M.Ed. | 2003 | St.FX.Canada |
| B.Ed. | 1990 | NIE, Samtse |
| ISC XII | 1988 | Sherubtse College, Kanglung |
Employment History (in chronological order starting with  most recent):
| | | | |
| --- | --- | --- | --- |
| Position Title | From | To | Agency |
| Principal | 15 June 2015 | Recent promotion | Shari HSS, Paro |
| Principal | 1/7/2011 | 1/6/2015 (last promotion) | Shari HSS, Paro |
| Vice Principal | 1/6/2007 | 30/7/2010 | Ugyen Dorji HSS, Haa |
| Vice Principal | 1/3/2002 | 1/7/2003 | UDHSS, Haa |
| Asstt. Principal | 1/3/2001 | 1/3/2002 | UDHSS, Haa |
| Teacher | 1/8/1993 | 30/12/2000 | Ha Jr. HS, Haa |
Name:                         Norbu Tshering
Position Title: Vice  Principal
Grade:                        P2 A (V)
Home Address          (Village/Gewog/Dzongkhag)
                                   (Jieu/Lugni/Paro)
E-mail:                       novutseri508@gmail.com
Telephone:                 17684039
Educational Background
| | | |
| --- | --- | --- |
| Qualification | Start Date | Institute and Location |
| M.Ed. | 01/08/2013 | Jaipur National University, Rajastan India |
| B.Ed. | 01/01/2001 | Paro, College |
| XII | 16/06/1999 | ILCS |
Professional Experience:(Please begin with your present post and assignment)
| | | |
| --- | --- | --- |
| Professional Experience | From-To | Place of Assignment |
| Vice Principal | 2017 | Shari HSS, Paro |
| Vice Principal | 2015-2016 | Lango MSS, Paro |
| Vice Principal | 2012-2014 | Dewathang PS, Samdrup Jongkhar |
| Teacher | 2011 | Betekha MSS, Paro |
| Teacher In-charge | 2009-2010 | Jaringay ECR, Samtse Dumtoe |
| Teacher | 2007-2008 | Samtse LSS, Samtse |
| Teacher | 2005-2006 | Sengten PS, Dorokha, Samtse |
Name : Karma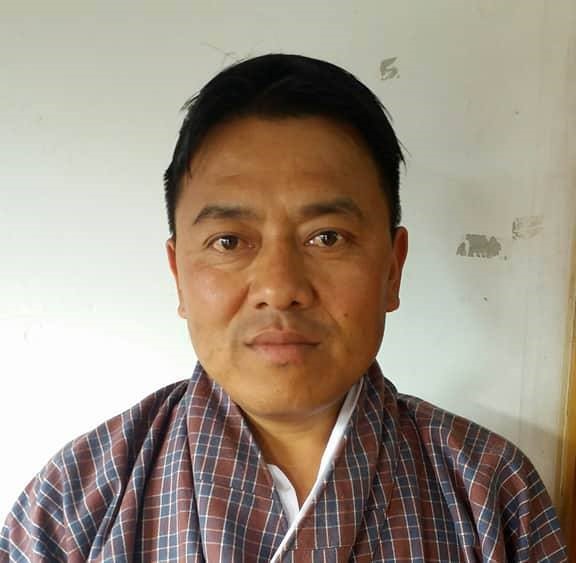 Designation: Vice Principal
Grade: V
Home Address: Yonphula, Kanglung,  Tashigang
E-mail: karma1975@education.gov.bt
Telephone:17664080
Educational Background: (please begin with your present qualification)
| | | |
| --- | --- | --- |
| Qualification | Year | Institution |
| PGDE | 2006 | Sherubtse College |
| B.Ed(Sec) | 2000 | NIE, Samtse |
| XII Arts (ISC) | 1997 | Sherubtse College |
| X (ICSE) | 1995 | Monggar CS |
Professional Experience: (please begin with your present post and assignment)
| | | |
| --- | --- | --- |
| Professional Experience | From - To | Place of Assignment |
| Vice Principal | 2017  - till date | Shari HSS, Paro |
| Vice Principal | 2014 -2016 | Jampeling CS, Tashigang |
| Vice Principal | 2011- 2013 | Yoeseltse MSS, Samtse |
| Teacher | 2009- 2010 | Yoeseltse MSS, Samtse |
| Teacher | 2000- 2008 | Yurung CS, Pemagatshel |