17 July 2020
The Annual Performance Agreement (APA) 2019-2020 Progress Review Meeting was held on 17th July, 2020 at the Dzongkhag Conference Hall. Dasho Dzongdag chaired the meeting.  Sector Heads attended the meeting.
In his opening speech,  Dasho stressed the importance of APA and the need to revise important and realistic activities. He added that such Review Meeting provides a platform to review Sector's progress and discuss issues.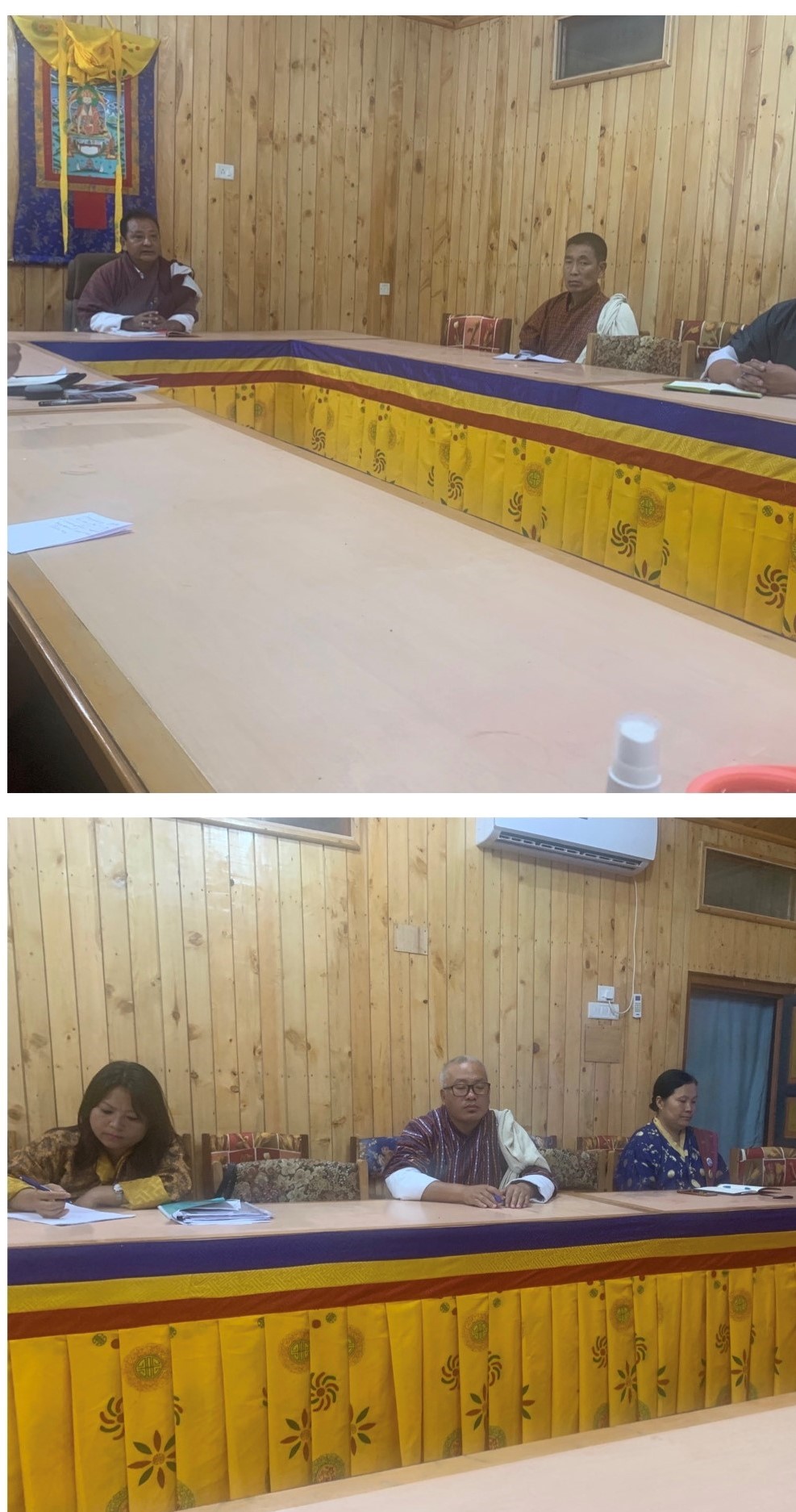 The Dzongkhag Planning Officer  (DPO) presented:
1. A brief background on the Government Performance Management System (GPMS)
2. Sector Level APA achievements
3. Dzongkhag Level APA achievement
4. Observations and Recommendations
The DPO started his presentation with the following excerpt from His Majesty's Speech from the 106th National Day, 2013, to mark the importance of proper implementation and resulting quality outputs of the planned activities.
"If we take a close look, we Bhutanese are good at writing plans, speaking well and expounding ideas. But implementation fall short of commitments. There is a gap between commitments made and output delivered. We are not able to deliver results of expected quality in a timely manner." 
He presented the Dzongkhag level APA achievement and shared information that an APA score of 95% and below for a Dzongkhag is a point of concern. Score of 95% and falling below that would mean the categorisation of any Dzongkhags under Need Improvement. 
In total, Paro Dzongkhag has a total of 32 Success Indicators (SIs). 28 SIs have been achieved. Dasho Dzongdag added that some Sector's put up SIs that are easily achievable while some put up unrealistic ones, which would bring up their Sector scores or bring down the scores respectively.He therefore stressed the need to revisit some SIs to make it realistic and also the need to highlight activities the COVID-19 situation has hampered or may hamper.
Dasho instructed DPO to conduct quarterly APA review meetings to track SIs and address issues Sectors may have while implementing their activities. 
DPO presented his observations and the corresponding recommendations. As per his observations he recommended  that Sectors need to follow APA while implementing their activities. He added Sectors should refer their APA document frequently to align their activities accordingly and use the APA document as a guide book to carry out activities.