06 February 2020
On 6th February, 2020, the Dzongkhag Health Sector conducted a sensitization program on the novel coronavirus outbreak of 2019. Dzongkhag staff and Regional Heads attended the program in the Dzongkhag Conference Hall.
The Chief Medical Officer of Paro Hospital gave a brief background on the outbreak of the nCoV from the Wuhan city of Hubei Province in China. He presented the latest global situation of confirmed cases from WHO as of 4th and 5th February, 2020 and the epidemic curve of 2019-nCoV cases identified outside of China by date of onset of symptoms and travel history as of 5th February, 2020. 
He also presented the following WHO's strategic objectives:
-Limiting human to human transmission
-Reducing secondary infections among close contacts
-Preventing transmission amplifications events
-Preventing further international spread from China
-Identifying, isolating and providing early optimum care for patients.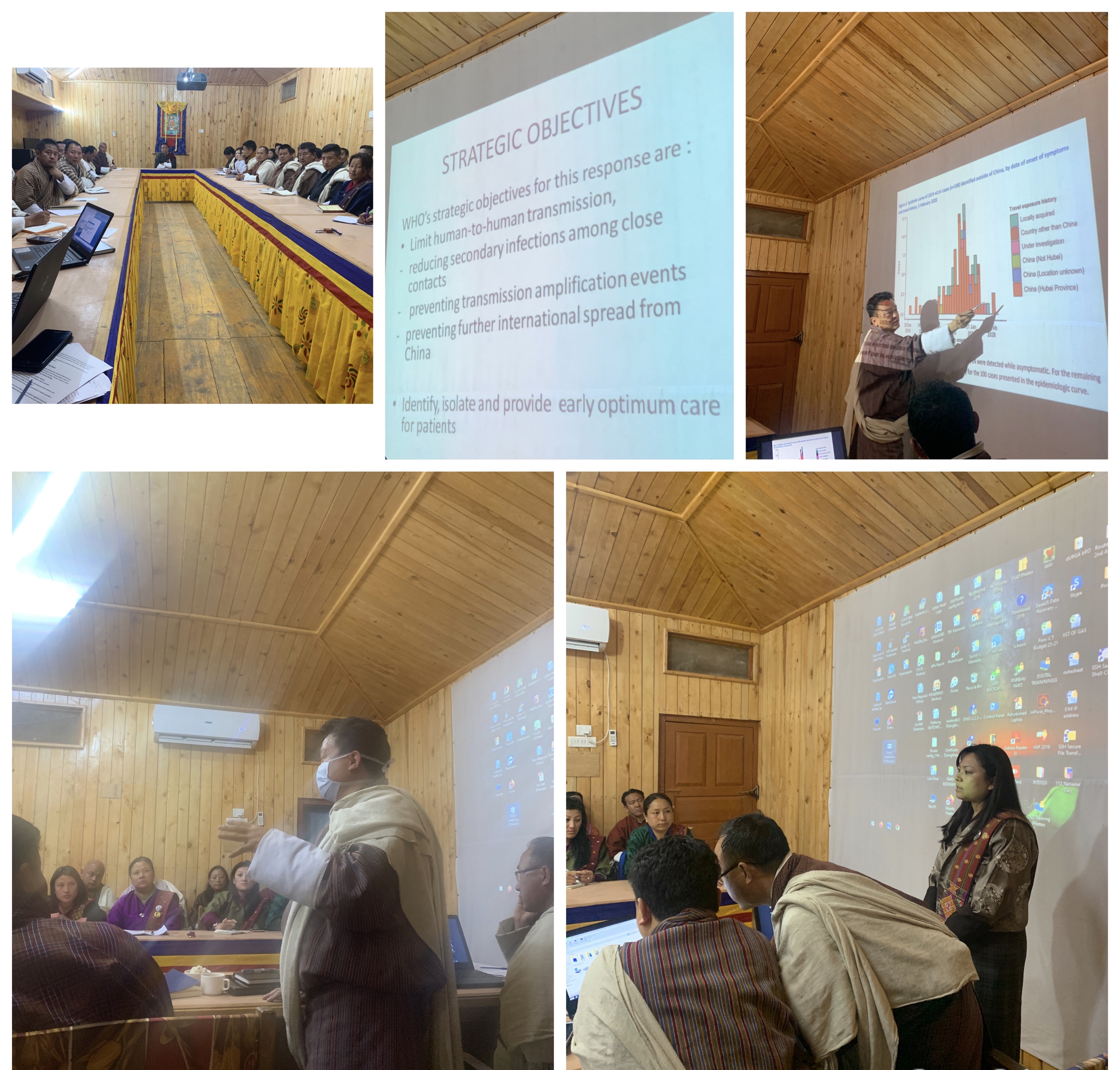 In addition, he presented on the Preparedness and Response scenario of our country as follows:
National Level:
-High Level Committee meeting was held 
-Surveillance system strengthened at Paro International Airport with effect from 15/01/2020
-Thermal scanning
-Health screening of passengers arriving from China
-Cautionary notification to public issued on 15/01/2020
-Started in-flight announcement w.e.f 17/01/2020
-All health centres notified to step up surveillance and report to the Regional Center for Disease Control (RCDC)
-RCDC is prepared to handle the 2019-nCoV in their BSL 3 Lab
-Arrangement to ship samples to AFIRMS, Bangkok has been made
-In-flight health declaration forms initiated w.e.f 01/02/2020
District Level
-Capacity building of staff
-Mobilization to Paro International  Airport 
-Isolation ward
-Protective Physical Equipments availability for health staff 
-Quarantine arrangements  
He ended the program by demonstrating the proper usage of the face mask (N95).